Meal preparation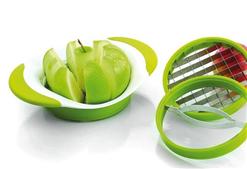 They are small, inexpensive, heavy-duty, and no kitchen can do without them. Mills, peelers, graters, colanders, cutting tools, moulds of all sizes, stainless and plastic bowls, moulding boards, pads, slicers, cutters, measuring cups, mixing, and measuring bowls – you may find all that in the assortment of BANQUET kitchen utensils. The abundant offer is complemented with additional kitchen tools, i.e. ladles, spoons, whiskers, turners, forks, and many other kitchenware items. A wide selection of different materials according to your choice is a matter of course. The assortment includes wooden, plastic, stainless, nylon and highly popular silicon products. Whatever product you select, you may be certain of its premium quality, long durability, and excellent price.

 

 

 
---
Do you need a knife for everyday use? Do you need a heavy-duty knife that is fit for any challenge? In that case, you ought to choose from our selection of classic BANQUET kitchen steel-edge knives. Massive kitchen knives from the Savoy line, for example, are distinguished by their edge made of top quality hardened steel with hardness ranging from 54 to 56 HRC. Their elegant handle made of two polished pakkawood plates is practical and easy to use thanks to its ergonomic shape.

Ceramic knives have become an indispensable kitchen utensil in any modern kitchen. Their main advantage is the extreme hardness of the ceramic edge and ultimate resistance to various stains and corrosion. The ceramic edge does not allow the penetration of any acids commonly present in foodstuffs. Compared to traditional steel knives, the ceramic edge prevents any chemical reactions with foodstuffs. Ceramic knives are neutral in terms of taste and chemical substances. Their ceramic edge also prevents the depletion of vitamins contained in fruit and vegetables. Ceramic knives are easy to clean and they represent a modern and mainly healthy method of cutting and chopping foodstuffs. The assortment also includes ceramic knives with white or black edges.

A compromise between both types of kitchen knives mentioned above is the anti-adhesive kitchen knife. It has a steel edge covered with an anti-adhesive layer. The wide selection of models, which are available in all standard sizes, their modern design and the range of colours will undoubtedly satisfy everyone. In addition, the individual collections feature peelers with the same design. The kitchenware assortment also offers a comprehensive set of chopping and cutting boards made of traditional and exotic wood, e.g. bamboo or gum-tree, as well as plastic, melamine and glass with numerous attractive decorations.

       
---
| | | |
| --- | --- | --- |
|           | | |