Food storage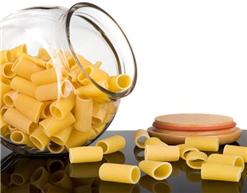 Food Jars & Containers
Nowadays, it generally is not a problem for us to buy fresh groceries every day. However, we hardly ever buy groceries intended for immediate consumption, whether it is fruit, vegetables, salami, cheese, meat, bread and pastries or dry foodstuffs, such as flour, sugar, salt, legumes, etc. In such a case, a pantry, a storage room, or a refrigerator certainly comes in handy. Nevertheless, in addition to the question of WHERE to put your groceries you also need to tackle the question of HOW to store them. As a rule, heat, light, and humidity are detrimental to all foodstuffs. Some types of fruit and vegetables should be stored separately and the same applies to foodstuffs with intense aromas. Likewise, not all foodstuffs can be stored in the same manner and in the same place. 
---
BANQUET brings you a large variety of storage jars and containers for different types of foodstuffs, which will help your store your groceries properly. Traditional glass jars continue to be very popular. They are available in many sizes and designs, with metal, wooden or glass lids. Glass jars are particularly suitable for storing loose foodstuffs, such as sugar, flour, breadcrumbs, as well as pasta, nuts, dried fruits, legumes or sweets and cookies. Smaller glass jars are ideal for storing spices and herbs. They are sold by piece or in practical sets with a shelf. The wide offer of glass storage jars also includes hermetically sealable containers, which allow you to store, for example, intensely aromatic foodstuffs, and decorated metal containers for storing coffee, tea or sugar. 

 

BANQUET also offers practical plastic containers with lids for storing ready-to-eat meals, fruit, vegetables, salami, cheese, and other foodstuffs in the refrigerator. You may select from a wide choice of sizes and shapes depending on the type of use. Containers from the Freezy collection are especially suitable for deep-freezing and long-term storage of food.

   

 

 

 

 
---
Short-Term Food Storage and Travel

 

Thermo pots with lids are ideal for storing and carrying hot and cold food. The outer casing is made of durable plastic, while the inside is stainless and easy to wash. Thermo pots are available in several standard sizes. Plastic 1 and 1.4 litre thermos food containers present another modern method of storing and carrying food. Their glass thermo-insulating separator ensures that the stored food maintains a constant temperature for a very long time. Plastic thermal containers are sold in sets with a deep plastic bowl and a plate. Stainless 3 or 4-compartment food carriers will serve you well when carrying meals from a canteen.

The best solution for carrying beverages is the well-known thermos bottle. BANQUET offers you a wide range of thermos bottles. The basic models are available in 0.5 / 0.75 / 1 litre volumes. On your travels, you will certainly appreciate practical thermos bottle and travel cup sets. We also bring you thermo cups with trendy designs, which may be used separately or with the thermos bottle. If you are planning an excursion, an outing, or a trip to your weekend house, BANQUET will always provide you with everything you need.

    

 

 
---