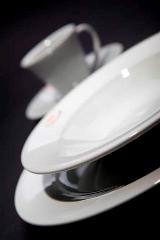 Welcome
to the brand BANQUET
---
 

BANQUET

– is a brand offering a full-range assortment of home utensils, earthenware, glassware, and chinaware.
We are pleased to present BANQUET, a brand of home utensils, which represents a comprehensive assortment of products for the preparation of food and beverages, table setting, and for the storage of raw and ready-to-eat food. You will find more than 2,000 items in the offer, which is continuously complemented with new BANQUET products. Practically every year, BANQUET launches more than 500 new products on the market.
BANQUET stands for long-time experience in the field. It offers a wide variety of designs, while respecting the requirements of its customers on product quality and functionality. It is inspiring, practical and it brings joy into your kitchen. The popularity of the brand among our customers is confirmed by the fact that BANQUET products are marketed in more than 20 countries in and outside Europe. Today, our products are being used by millions of satisfied customers.
In the long term, BANQUET aims to continuously expand its assortment and to offer high quality kitchenware products at affordable prices. In order to be as near as possible to our customers, we are constantly widening the distribution network of our business partners and improving the availability of our products.
We believe that by exerting maximum effort while fulfilling the above specified objectives, by focusing on our customers and by providing excellent services, we will ensure maximum satisfaction of customers and business partners.